The Art de Corps Artists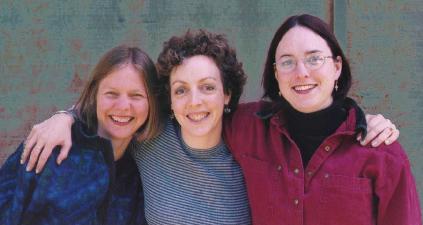 It all started here: Allison, Daria, and Megan
---
Art de Corps Artists' Statement
Art de Corps sprang from the spirits of three women who shared an attraction to color and shape in glass and a need to create more jewelry than they could ever wear. Over the years, new artists have joined, as others have followed different paths. The constant through the years has been our delight in creating and sharing, as well as an unrelenting commitment to excellence in design and craftsmanship. Our designs emphasize a visual rhythm and a design harmony that we feel is essential to wearable art. Our earring designs use light to fill the color of the beads as they dangle; our necklaces move gracefully with the wearer.

Our palette consists of hand-patterned and hand-formed metal, antique and contemporary glass beads from Europe and Africa, gemstones, pearls, carved stones, and a variety of unusual beads to create lasting jewelry that is beautiful and fun to wear.

---
What's New?

We accept VISA, MasterCard, and DISCOVER!
And PayPal, too. So convenient!
There's new work is available in the Collectors' Gallery and also in our collection of one-of-a-kind Lei necklaces in the Aloha Collection. These luxurious (and labor-intensive) necklaces have been very popular and feel wonderful around your neck!


---
As always, if you have questions or want custom work, drop us an email: info@ArtdeCorps.com
---
Gallery Locations
We are represented at The Sixth Street Gallery, 713 - 6th St., in Prosser, Washington. You can visit them on your next wine country tour! Call the gallery at 509-786-7657, for hours and directions.

If you know a great gallery that should carry our work or you have a great gallery, yourself, we'd love to know about it. Drop us a note, please!
---
| | |
| --- | --- |
| Everyone loves beads! Emma and Coco model the latest in dog jewelry. | Jacob goes WILD for Art de Corps Jewelry. |
---